About Us
Angel's is a place where you can find highly qualified instructor's who truly enjoy teaching and making lessons fun in a warm positive environment.
We have been serving this community for more than 20yrs. Encouraging the love of music while offering quality lessons.
Our student's are encouraged to give back to the community by participating in the Ronald McDonald House play-a-thon and entertaining the community whenever possible.
We can be found participating in the Holiday Parade.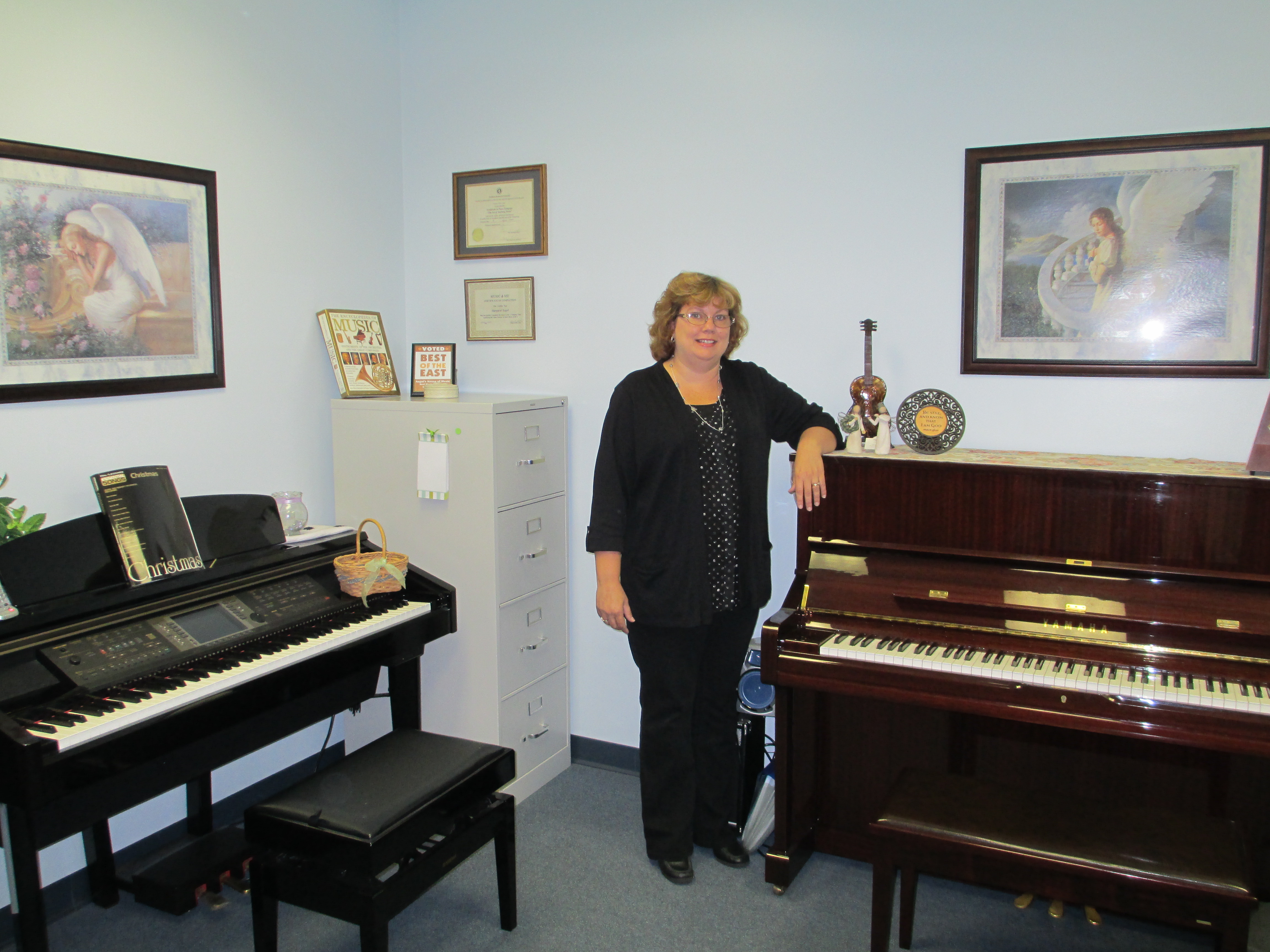 "Our daughter has been taking private piano lessons at Angel's House of Music with Margaret Angel for four years now and is already learning to play beautiful classical arrangements. She is going into her second year of private classical guitar lessons with guitarist Kirk Redman. During her second recital she played and sang her first solo. Recently our daughter began taking private voice lessons with Katherine Krueger, an exceptional vocal instructor.

Each and every week the instructors give the encouragement and challenge for the students to continue to learn more and to keep improving. All of the instructors are dedicated and passionate not only about their love for music but the students as well."

John and Linda  - Milford, Ohio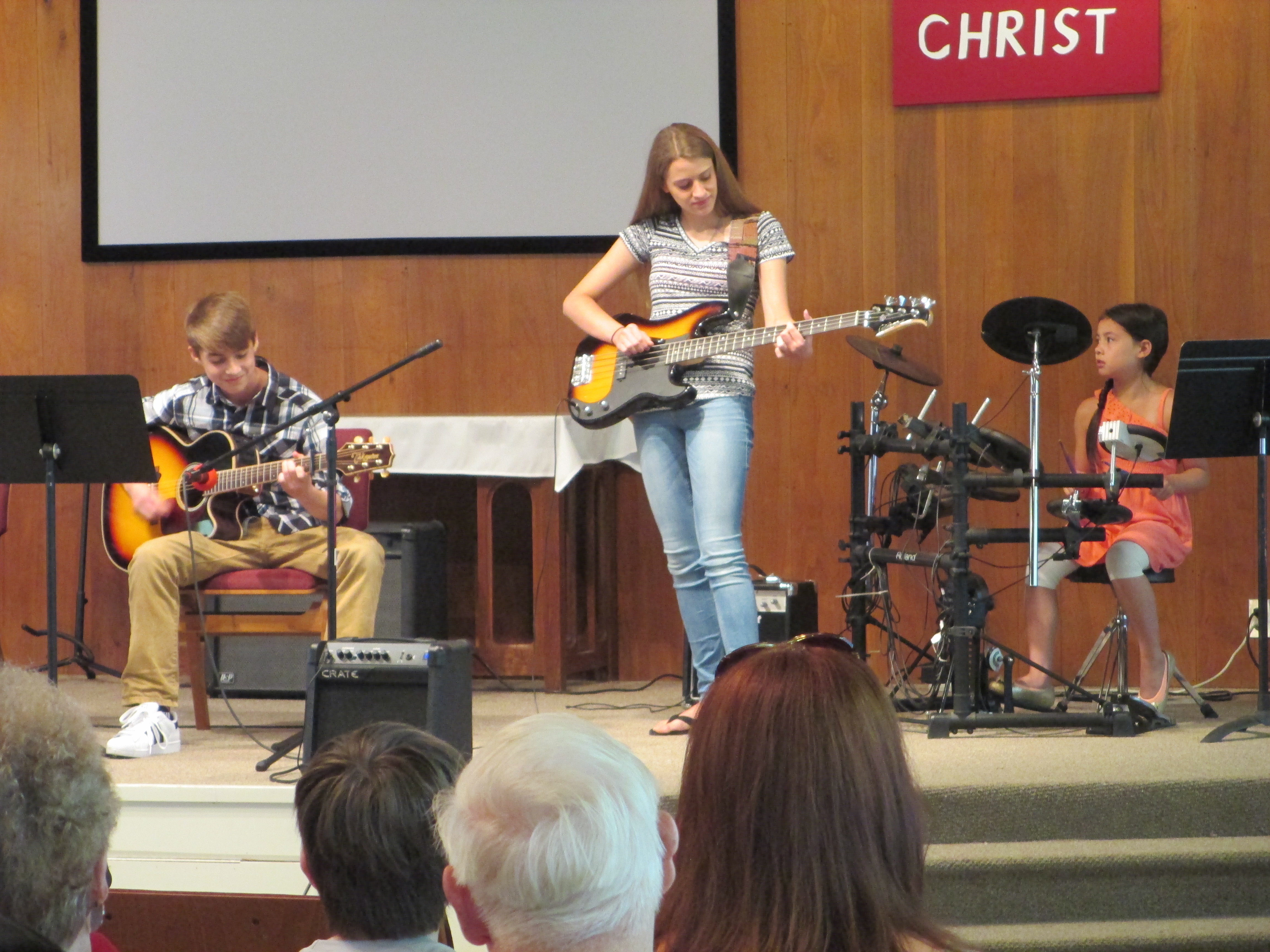 "We chose Angel's House of Music several years ago for our son who had a beginning insterest in the guitar and his progress with instructor Michael Walker has been wonderful. His development and appreciation for music have definitely helped him to be more confident overall. He learns new techniques and sounds every week and he looks forward to class with Michael who is *always* upbeat and who exudes a genuine passion for his art.

We were so impressed with the instruction and comfortable atmosphere at Angel's that we enrolled our young daughter in drum lessons with instructor John Finger. She has since participated in several rock band sessions directed by Michael with other students at Angel's and has continued to gain confidence in being on stage and performing in front of people. John, also extremely upbeat, works so well with her, challenging her with fun and age/skill-appropriate pieces. We highly recommend both the school and instructors."

Chris Kolik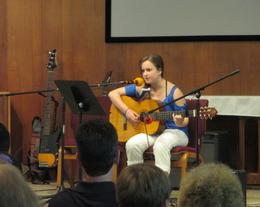 "Angel's House of Music has been an instrumental part of our family for over 6 years. We couldn't be more pleased with the level of teaching and our children's advancement, both in techcnique and artistry. Our children started with no ability to play their chosen instrument; our youngest couldn't even read music! Both are now successfully playing intermediate and advanced pieces. they contribute to group performances and play solos. Angel's House of Music has greatly enriched the lives of our children by giving them an outlet for artistic expression and by increasing their self confidance. The ability to appreciate and play music is a skill our children will never outgrow. We would highly recommend Angel's as a safe and professional environment for music lessons."

Darla Christie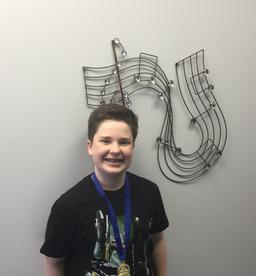 "I am a mature person who always wanted to learn how to play "Piano" music but I was always working and never had the opportunity. I am semi-retired now, so I enrolled at the Angel's House of Music without knowing how to read the music notes. It seemed an impossible thing to do. To my surprise, after four years and attending most of my classes I can say: I know how to read music. I am still not perfect but I have truly advanced in my piano class. I have a terrific instructor. Margaret Angel is very patient and has given me great instructions in how to approach my learning. As you can see, it is never too late to learn an instrument. "

Maria Sonia Blasiak
"I have been a proud student at "Angel's House of Music" for 15 years! As a "late" guitar learner, I needed a place to develop my skills and work with caring teachers who would guide this "Old Man" on his new journey! One of our family jokes was that I couldn't take my drums in the backyard and sing and play!  At Christmas, my girls bought me a guitar AND NOW I can! My teachers at Angel's have all worked with me to further develop my musical talents and master my craft! I proclaim that I am the youngest student at our studio when in fact, I am pushing 70! YES, at my young age I continue to learn and work with great people who love music! Who knows, I may still be taking lessons when I'm 80!!     Several of my teachers have been from the Cincinnati Conservatory of Music! All talented individuals who are a joy to work with!   Thanks, Margaret, and all of my teachers for helping this man fulfill some of his childhood rock and roll dreams!"

Musically Yours, Steve Zinser, Student